About Us
About Us
EpicTV was developed in Chamonix, France, by a multinational crew of climbers, filmers and stoke mongers with a few common goals: to inspire you on your next adventure, and create the ultimate online community. In addition to our award-winning videos and our team of pro climbers representing us around the world, our killer online shop has everything you need for climbing, including the best selection of climbing shoes in cyberspace.
We've gone through a few reincarnations in our time; from filming wingsuiting to selling skis and snowboards, it took us a while to find our niche. After a few years of trying to do everything, we thought, why not just chill out and do what we're best at? We all love climbing at EpicTV so we thought what better way to show it than put all our combined knowledge and skillsets into rock climbing, alpinism, mountaineering and bouldering. We have small teams in Chamonix, London and Helsinki, working on bringing you the best climbing content, gear and know-how.
If it gets your climbing senses tingling we're bringing it straight to your computer with up-to-the-minute climbing news, award-winning videos, cutting-edge product reviews, informative how-tos and inspiring articles to keep you plugged into the life you love. Epic isn't a buzzword, it's a belief that life on the sharp end is meant to be shared.
Meet The Team
Pekka Somerto
CEO
Pekka Somerto leads the EpicTV team on its continued adventure into new territory. A newcomer to EpicTV Pekka is a veteran of SME and corporate startups and online consumer business. When not jetting between the company's Chamonix and London campuses Pekka enjoys time out with consumer electronics gadgets, old Fender guitars and amps, and a glass of red from northern Italy. No stranger to mountains, Pekka has been a skier and outdoor lover since the early '70s.
Panu Lehti
Head of Business Development
Panu created EpicTV out of his love for extreme sports. Being an avid whitewater kayaker, climber, mountain biker and mountaineer, Panu aptly decided to create this multimedia company in the Extreme Sports capital of the world, Chamonix, France. Ever since, he's been sourcing the best of the best content in adventure sports and has built www.epictv.com into one of the top 5,000 websites in the world, and climbing.
Hugo Pilcher
Head of Climbing Media
Hugo has evolved from a camera tech into a full-time producer, and he's hit all the spots in between. He's had to deal with lots of changes in his life, but the one constant has been his love of all things with a big lens. That and his refusal to accept anything other than 'vanilla' as a legitimate flavor of ice cream. If cinematography was an animal and extreme sports were a postcard, Hugo would be Postman Pat -- HE ALWAYS DELIVERS. 
Steve Walton
Head of Technology & Digital Content
Skier, mountain biker and lover of good beer, Steve grew up ski racing and moved to the Alps straight out of school.
He has turned his hand to many things, mostly working as a film maker & photographer in the action sports film industry. His knack for coding brought him to EpicTV, where he heads up the web development team and spends roughly 18 hours a day us how to turn off our computers and turn them back on again.
Jeremy Fournier
Head of Purchasing, Warehouse Manager
Jeremy is our resident expert on all sporting gear as well as the big papa of the warehouse. A 12-year veteran of the mountain sports industry and lifelong telemark skier he's worked as everything from a boot-fitter to an athlete consultant in the Telemark World Cup.  Balancing university studies in biomechanics with a keen sense of himself as an artisan, Jeremy has quickly become our go-to source for all kinds of outdoor and mountaineering knowledge.
Filippo Gualtieri
Accounting Wizard
Filippo, a passionate Florentine, joined  EpicTV to manage our bookkeeping, accounts, corporate sales, and generally solve our problems in the most Italian of ways. He studied business and law in Florence, Paris, and Bangkok before coming to the alps to pursue his passion for ski touring. When he's not here in Cham you'll find him hunting secret snow stashes and skiing steep couloirs back in his beloved Dolomites.
Donna Saarentola
Producer / Director
Jussi & the Codemonkeys
EpicTV Technology Team
Jussi and the Codemonkeys are not actually a rock & roll quartet from the 70's. They are in fact the incredibly talented team of Finnish developers that make all of EpicTV's products work, from our website & mobile apps to all sorts of top secret back-end trickery. When bribed with enough bananas, our crack team (Jussi, Antti, Illka & Pasi) are capable of turning the wildest of ideas into a working product in no time.
Ronald Blanchet
Head of UX
Carlos Abrades
Climbing Purchaser
No climbing company is complete without a hardcore, run-it-out Basque charger on the team and our native Euskaldun is Carlos Abraldes, EpicTV's Climbing/Alpinism Buyer. As a climber, surfer, skier and all-round outdoors lover, Carlos travels the world mainlining his adventure addiction and in the last three years he's hung his txapela in Spain, Ecuador, Bolivia, Chile, Peru, Iceland, Norway and now Chamonix, France. For a man with seawater in his veins, we're wondering whether he can survive this far from the ocean. A few cracks have started to appear in his otherwise friendly, easy-going facade and we're starting to think it's not a matter of if, but when.
Jim
Graphics Designer/ Animator
Jim Cox has worked in video, editing, graphic design, motion graphics and video game cinematics for most of his career. At one point or another this mountain biker and motoX head has destroyed much of his body, but as our in-house motion graphics artist his eyes and his hands are still second to none.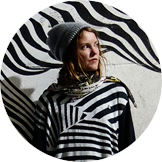 Sanna
Graphic Designer
Sanna is an avid boulderer, rock climber, surfer, yoga teacher and general outdoor goddess. A veteran of the advertising industry, she divides her time between graphic design and and her love of anything related to the mountains and the sea (particularly with a board under her feet). Give her a green smoothie and a steak and she's like Popeye with spinach, ready to tear anything up.
Alice
Italian & French Copywriter
Alice Biscaglia runs our Italian shop and her passion for Italian language and culture is almost as strong as her obsession with the mountains. She followed in her mother's footsteps as a ski racer and then swapped planks for blades to teach figure skating before making the move to Chamonix to get out everyday for some touring, climbing or haute mountaineering. Alice speaks many languages and brings her experience in the mountains and her knowledge of its people to making sure our Italian website is perfetto.
Chloe
English Copywriter
Chloe is one of the few people at EpicTV who doesn't live in Chamonix; she discovered her love of skiing at university and has since skied all over the world before settling down in Morzine with her cat and dog, who she loves more than her boyfriend.
Matt Groom
Presenter & Editor
Andrea Sabbadin
Italian Copywriter
Mateffy Istvan
Cameraman / Editor
Johan Kervella
Presenter & Editor